Mobility
Pole position: embedded finance in the mobility industry
Financial services enhance customer relationships, simplify transactions, and expand business opportunities for mobility providers, OEMs, and transport companies.
Solaris' white-label banking services empower mobility industry players to become customers' financial homes. A complete financial ecosystem can be natively integrated into platforms of all types.
Accelerate growth: new opportunities for mobility providers
Trust and reliability are the two most important values for mobility customers.
Embedded financial offerings amplify those values of trust and reliability. After all, established brands have already gained the trust and loyalty needed to convince their customers to use their financial services.
And in the four largest markets in Europe, over 30% of consumers are willing to use financial services from a mobility brand.
Combine mobility with financial services
Embedded finance is the seamless integration of financial services into websites, mobile apps, and business processes of non-financial companies.
Solaris makes financial services integration frictionless. With our APIs, we cover all the needs of the mobility industry.
Co-branded payment cards, buy-now-pay-later options, or a digital bank account with loyalty programs and rewards specific to the mobility industry can help providers and car manufacturers win customers' hearts.
Elevate your customer's experience with embedded finance
Rewards
Make frequent users a part of your privileged community. Introduce bonus programs and allow your loyal customers to get rewards.
Flexibility
Empower your customers to finance your core products and repay loans flexibly. Enable auto financing or loans through online channels – 100% secure, fast, and easy.
Innovation
Offer digital payment solutions to your customers and pioneer faster payment methods. Delight your customers with lightning-fast transactions.
One-stop-shop
Enhance your customers' experience by offering them simplified and seamless end-to-end customer support, a full range of financial services, and real-time verification – transparency and clarity guaranteed.
Drive preference for your mobility brand
More touchpoints
Boost customer engagement by integrating embedded financial solutions into your offering and increasing the number of touchpoints with your brand.
New business
Create new business opportunities and increase your company's sales with digital bank accounts, lines of credit, and payment cards. Diversify your revenue streams with interchange fees, interest, and bank charges.
Grow beyond your core product
Many mobility service offerings are ideally suited to be complemented by a financial product. This creates ways to build a customer-centric financial ecosystem that can form a network of value across industries.
Leveraging data
Leverage large amounts of consumer data resulting from the use of financial solutions. Analyze the buying behavior of your customers to constantly improve the products for your target group. Destination: Financial services hub.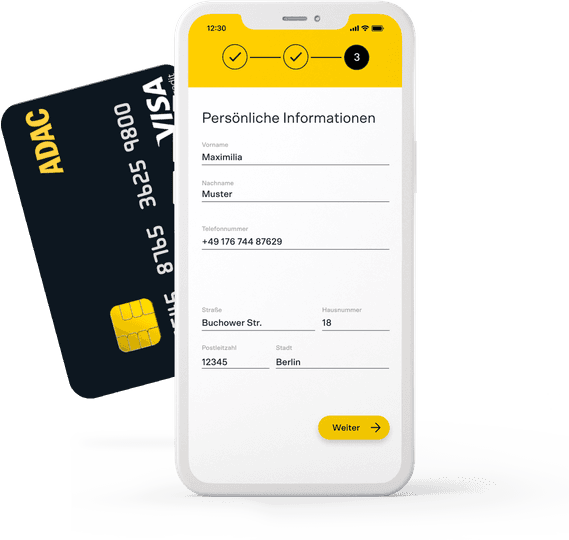 A German mobility institution becomes future-proof
The ADAC is Europe's largest automobile association. And has partnered with Solaris to continue developing the company's 1.3 million credit card portfolio.
Solaris' card issuing and processing capabilities, as well as its unique technology stack, will support ADAC in enhancing the customer experience with new rewards, secure digital identification, and a dedicated app.
The startup that reshapes employee mobility
Our partner NAVIT shows how to create a value-added service for customers by integrating a payment card into its core offering.
NAVIT helps companies to enable their employees to use all public transport systems with one card by granting them individual budgets that correspond with their mobility needs.
With Solaris' banking license and technical infrastructure to issue virtual prepaid cards to businesses under an employer benefits model, NAVIT is taking off in the mobility industry.
Hear what our partners have to say
"Solaris is our ideal partner for the ADAC credit card program, seamless continuation and portfolio expansion. Their modern and powerful platform allows us to maintain successful services for our members while further expanding our offering."
Mahbod Asgari
Executive Board of ADAC SE
"The digital payment technology of Solaris has played an invaluable part in enabling us to build the mobility platform of the future. Employees use the app to book their trips, manage their budgets, and offset their CO2 footprint automatically. The support of Solaris has been crucial to the growth of our company."
René Braun
Co-Founder & CEO of NAVIT
Our tailor-made services for the mobility industry
Bank accounts
The bank account is a cornerstone of the financial ecosystem fostering strong customer loyalty. It empowers mobility providers to create daily touchpoints with customers by processing their payments, managing their credit lines and overdrafts.
Introducing bonuses, loyalty points, and cashback rewards further contribute to customer retention.
Credit and debit cards
A credit or debit card is a great embedded financial feature with huge potential for mobility brands.
Enrich your customers' banking experience with your own co-branded payment card. By offering a seamless banking experience, your customers engage with your brand every time they make a payment.
Credit lines
Lending and credit lines dominate embedded finance in mobility. OEMs' online sales can thrive with agile credit models. With a Solaris credit product, liquidity, and credit checks can be performed in real-time.
Customers can easily adjust repayments as needed - easily, digitally, and without paperwork.
Explore key insights - discover our mobility whitepaper
Uncover the main factors that drive customers to utilize financial services offered by mobility providers. Deep dive into our collaborative whitepaper with Handelsblatt Research Institute.
Unlock the potential of embedded finance to keep track in the mobility industry