Introducing Futura: Solarisbank's network for women in fintech
7 minute read
By

Layla Qassim
April 7, 2022
The difficulties women face at work — particularly in Germany, which has the fourth widest pay gap in the EU — are well-documented and cut across industries.
But the fintech space suffers from triple jeopardy. Which is to say that women are grossly underrepresented at every imaginable level, even when compared to other traditionally male-dominated spaces.
Fintech customers are predominantly men. Only 21% of women use fintech products.
Similarly, fintech employees are predominantly men. Only 29% of employees in fintech businesses are women.
Crucially, female representation at senior level is one of the lowest in any industry.
Only 5.6% of fintech CEOs and fewer than 4% of chief innovation officers are women. Worse, only 1.5% of fintechs globally — 16 companies — have female-only founders. And these firms have received a paltry 1% of the $210.1 billion worth of investment that was pumped into the industry between 2010 and 2021.
These numbers would be shocking in any context. But what makes them even more shocking is that they're worse than the numbers for the traditional financial services industry.
Fintech prides itself on disrupting the status quo. Yet, when it comes to gender equity, the status quo is doing better.
More importantly, fintech's mission is to make financial services more relevant, useful, and accessible for everyone.
How can it achieve these goals, when half the world's population struggles to get a seat at the table?
How Solarisbank is working to close the gender gap in fintech, with Futura
At Solarisbank, we decided to take a deliberate stand to improve gender equity in our workplace. So we've launched Futura: a network that supports and empowers women and works to boost representation within our organization at all levels.
And when we say all levels, we mean it in the most literal sense possible: from junior staff right up to and including our board of directors.
"Futura is a grassroots initiative," says Magda Brzezinska, Solarisbank's Brand Marketing Team Lead. "It was started by a group of women who have always been passionate about gender equity and inclusion and wanted to make a difference in our workplace."
But once the core group started meeting to discuss what they could do to help address the systemic issues women face at work, they realized their ambitions were much greater than bringing about change internally, at Solarisbank. Which led to the decision to create a separate brand.
"There's a massive gap in fintech when it comes to gender equity and diversity," continues Magda. "And that made us think that, perhaps, our goal should be to create a shift in the industry as a whole."
The name, colors, and branding of Futura represent this bold statement of intent.
"Futura — literally the feminine of 'future' — embodies our vision of powerful women shaping the future of fintech," explains Magda.
"While Futura brand has clear links to Solarisbank, we wanted to give it its own character, adding more vibrant, punchy and feminine – yet not cliche – elements. It gives us a more impactful platform when addressing the industry."
However, Futura is more than just an exercise in clever branding and pretty assets. Its intentions are dead serious.
"Futura has two overarching aims," says Ana Feijoo, Solarisbank's Senior Communications Manager.
"First and foremost, we want Solarisbank to be the most attractive fintech in Europe for women to work at. And our benchmark for success is for at least 30% of our workforce at all levels — including senior management — to be women by 2024. Secondly, and more important, we want to be a catalyst for change across the fintech industry by setting the standard we think everyone should be aiming for."
To achieve these goals, we're launching a series of initiatives across three pillars:
Attracting more women to Solarisbank
Retaining them through a more supportive culture
Developing their talent so they can flourish
Practicing inclusivity
The dearth of women in fintech has created a vicious cycle.
Because those who work in the industry — from founders to juniors — are predominantly male, this perpetuates the idea that fintech isn't an industry that is friendly towards women.
In turn, fewer women — and even fewer non-binary and gender-fluid people — go on to have careers in fintech, and the cycle continues.
"If we're to break this cycle, women need to be more visible," says Delia König, Solarisbank's CPO. "So a core part of Futura's work is hosting events — from discussion panels, to training events and empowerment days — where women who are considering a career in fintech can hear from, learn, and network with those who already work in the space."
The logic is simple but powerful. If you see somebody who looks like you doing the things you want to do, it gives you the confidence to believe you can achieve your goals.
At the same time, we're also working to make our hiring process more inclusive.
A frequently-quoted internal report put together by Hewlett Packard in 2014 found that, where men apply for jobs if they meet at least 60% of the requirements, women will only apply if they meet them all.
"To that end, we are organizing targetted events to attract more women to the fintech industry, we've made the language of our job adverts more inclusive, and asked the recruitment agencies we work with to ensure at least 40% of applicants are women," explains Alex Gessner, Solarisbank's VP of Onboarding & Integration and the woman who came up with the idea of creating a women's network at Solarisbank.
"We're also holding inclusive leadership training workshops for hiring leaders, and offering women the opportunity to meet women who already work at Solarisbank for informal 'buddy chats" where they can get a feel for our culture."
In the long term, our goal is to transition to blind CVs, to make our recruitment process even more merit-based.
Hiring more women is not enough
Making fintech a more attractive career choice for women is an important first step. But what happens after women land a job in fintech is critical.
How long do they stay in their jobs? Are they promoted? And do they stay after they're promoted?
Sadly, our own stats suggest there's a very long way to go when it comes to retention. While women make up about 35% of employees at Solarisbank, that ratio drops dramatically as we move up the hierarchy. Furthermore, it was only recently that we appointed our first woman to a position in our management team.
So how do we create an environment where women want to stick around and keep furthering their careers?
Futura takes a two-fold approach to this.
For starters, we're launching a series of initiatives to upskill, develop, and promote our top female talent.
Over the coming months, we'll be creating a series of training programs designed to support women at all levels of the organization.
We're also going to hold workshops on topics like impostor syndrome — which predominantly affects women — salary negotiations, and neurodivergence. And we're planning to collaborate with other companies in the sector on exchanges where women in leadership positions can mentor up-and-coming talent.
Second, we're taking active steps to improve our culture so it's more supportive and inclusive. That means not only giving women a safe space where they can share challenges and frustrations and blow the whistle on unacceptable behavior, but also recruiting men as allies.
"Men as allies are key pillars when it comes to raising awareness and fostering a sense of shared responsibility for tackling gender inequality and discrimination in the workplace," says Valentina Rotimi, Solarisbank's People and Organization Business Partner.
"Engaging male colleagues so they act as advocates and actively lend their support is critical. We're all in this together."
Putting our money where our mouth is
Alongside working towards some very ambitious goals, we're also going to take an unprecedented step: we're going to report on our progress every quarter.
This is valuable for many reasons.
It's going to keep us accountable.
It'll show us exactly where we're falling short and what steps we should take to improve.
But, most significantly, it will lead to some uncomfortable conversations about the gender gap, inclusivity, and diversity within the fintech industry.
"Initiatives aimed at empowering women must go where it's uncomfortable," says Alex. "Otherwise, they're just marketing. Ultimately, our aim is to make fintech more inclusive for everyone — women, men, and non-binary people. And the first step towards tackling systemic issues that are holding women and other underrepresented groups back is an open and honest conversation about why those issues exist in the first place and what we can do to address them."
All the pieces matter
Addressing biases and taking meaningful steps to be more supportive and inclusive of women, non-binary, and gender fluid individuals are important initiatives in their own right. Nonetheless, Futura is also part of a broader vision, which we're calling NPB.
NPB — Nature, People, Business — is our take on ESG. And, like Futura, it aims to challenge the status quo and spark a shift in mindset across the industry.
The problem with ESG is that its three pillars — Environmental, Social, Governance — are often treated separately. But that's not how sustainability works.
As the events of the past two years have shown us, everything is connected. Environmental issues impact society and governance. Similarly, societal and governance issues impact the environment and each other.
"The NPB framework embodies our view that sustainability should be threaded throughout everything we do — how we treat nature, how we treat our people, and how we do business," explains Alex.
So what does this look like in practice?
For starters, over the next few years we'll be working towards obtaining B Corp certification. This is the ultimate accountability, because it turns our sustainability objectives into legal commitments.
But Futura is also fundamental to our approach.
Put simply, we're instigating change by being the change we want to see.
It's high time fintech became more diverse and inclusive
Over the past few years, there's been growing awareness of the importance of diversity and inclusion in the workplace, but very little action. It's high time that changed.
According to McKinsey, companies with gender-diverse executives outperform their peers by 25%.
But beyond sheer numbers, the case for greater equality is as simple as this.
Fintech's mission is to build innovative solutions, and this requires different ideas, outlooks, and perspectives. You can't come up with new ways of solving problems if everyone on your team looks the same and has the same background.
At the end of the day, diversity and inclusion benefit everyone. With Futura, we're hoping to prove this to the industry beyond doubt and create a blueprint they can follow.
Want to join us on our journey to make positive, lasting change?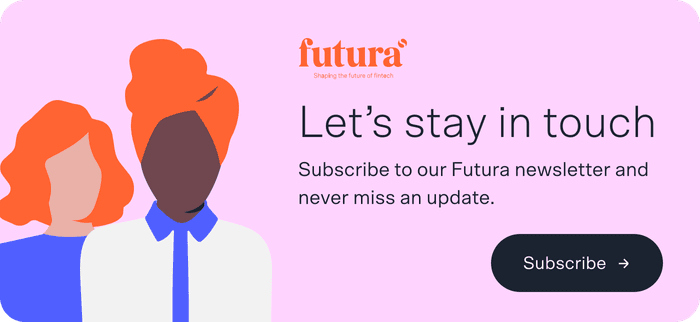 Never miss an update - Sign up to the Solaris newsletter